Corona Clips in the Moovly Studio editor explained
Corona Clips in the Moovly Studio editor explained

To support you in your video communication about the coronavirus, Moovly has created a couple of video clips. These can easily be adapted according to your needs and wishes.

The corona clips can be found in the Corona library in the Moovly Studio editor:

These Clips are available in English.
Editing the Moovly Corona Clips

A Clip is a group of animated objects in the Timeline. To edit simply select object per object either in the Timeline or on the Stage and change length, color, animation effect, etc.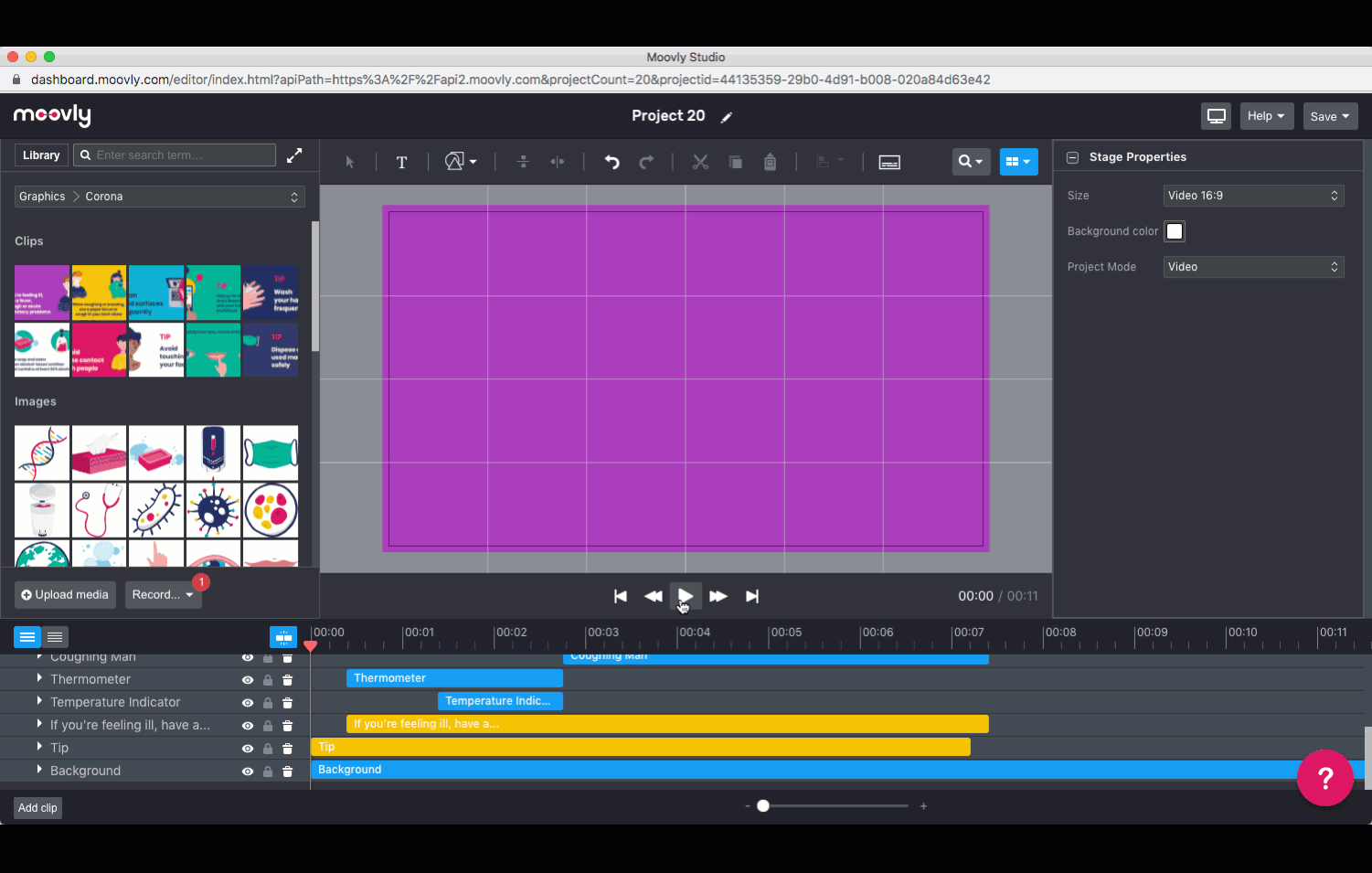 Stay safe and good luck!
-----

Related topics:
Related Articles

Can I get help in the Moovly Studio editor?

Understand how to get help when you are in the editor. When you are in the Moovly Studio editor, you have different help options available - just look at the top right corner of the editor window and you will see the following options: Intro video: ...

Which sound formats does the Moovly Studio editor support?

Understand which sound formats are supported (Moovly Studio) Moovly allows you to work with all kinds of sounds and to synchronize them with the animations of your graphical objects. The following formats are currently supported by Moovly: MP3, WAV, ...

What are the technical requirements for Moovly Studio?

Understand the browsers that are compatible with the Moovly Studio editor Moovly Studio is a browser-based application that is supported by most browsers: Chrome, Firefox and Edge on Windows computers Chrome, Firefox or Safari on Apple Mac computers ...

How to work with subtitles in the Moovly Studio?

How to edit, import, and export subtitles in the Moovly Studio. The subtitle feature is available for Max and Enterprise users. To find out more about this subscription, please click here. Create subtitles When you open the Moovly Studio the click ...

How to rearrange the editor?

Learn how to change the size of the Library, Stage and Timeline When you open the Moovly Studio editor, you get a default view of the Stage, the Library panel and the Timeline. It is possible to modify these relative sizes for your convenience. For ...