How can I change my billing information?
To modify your billing details, follow these steps:
Login to Moovly and click settings:


2. Next, in the submenu click the 'Billing tab:
3. Click 'See billing information'. You are now taken to our secure billing service provider Recurly showing your billing details. Click 'Edit" to change your information: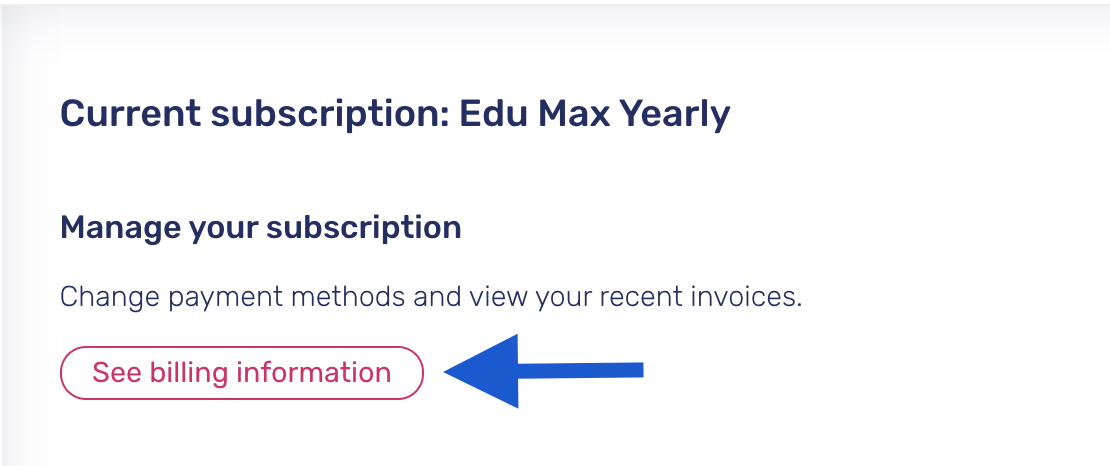 Related topics:
Related Articles

When I enter my billing information and save it, it is shown that you took 1 dollar. Why?

Authorizations on a card are done as part of a standard security check. It's a reservation of a fee, not a charge. As soon as the card is approved, the authorization gets cancelled automatically. This then becomes 'a void ...

Which payment methods are supported?

How to pay for your Moovly subscription or stock objects Whether you want to purchase or upgrade a subscription or pay for Getty Images stock media to use in your content, Moovly provides several payment methods. We currently accept Visa, MasterCard, ...

How to change the color of objects?

How to change the default color of your images and videos. Follow the instructions to find out how to change the color of your objects. Step 1: Upload your image or video file to your Personal Library or choose an object from our libraries. Step ...

How to change the thumbnail of your project?

Choose which frame of your video or presentation is used as thumbnail On your Dashboard, your projects are listed as a series of thumbnails with a title and some action buttons such as Edit, Download or Publish. When you create a new project with ...

How to change the order of objects on the Stage?

Learn how to bring objects forward or backward When you've put multiple objects on the Stage, you will need to decide and rearrange which objects are on top of others and which objects are behind others. For example, when you want to use a picture or ...