How do I convert audio to subtitles?
3) Select the spoken language of the audio and click
Convert audio to subtitles
.

4) The audio track will now start converting into subtitles. Depending on the length of your audio this might take several minutes.
Do not close
the Moovly Studio during the conversion; otherwise, you will have to start over again.
Please note that it is possible that the transcription will not be 100% accurate for each audio track, which means that the transcription may contain errors or faulty conversions. This can be modified afterwards.
The progress of the conversion can be found next to the subtitles layer:

5) After the conversion, the subtitles will automatically be added to your project.

6) You can now modify the subtitles. On the right-hand side of the Moovly Studio, you will find the properties of your subtitles. You can modify the font, size, (background) color.

Next up you can also choose to either import or export your subtitles.
We currently support .SRT and .CSV files.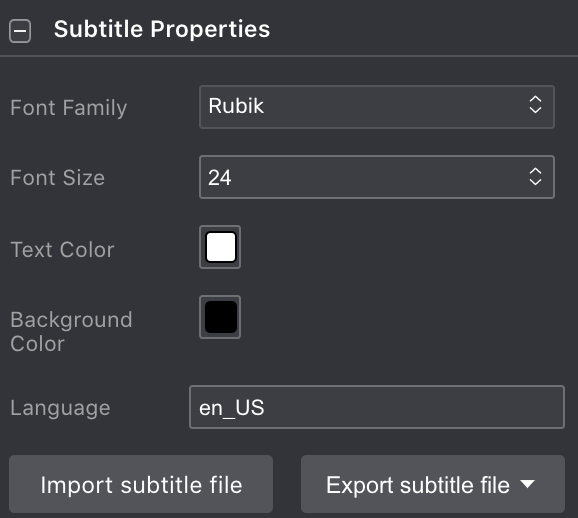 That's it! Your audio has now been converted to subtitles and is ready to be used for your project!

Related Articles

How to translate subtitles and text objects?

When you need to create videos in different languages, Moovly's translate feature can be a powerful tool to use. This process works via our Google Translate integration or via an XLIFF file upload With the following instructions, you will be able to ...

How to work with subtitles in the Moovly Studio?

How to edit, import, and export subtitles in the Moovly Studio. The subtitle feature is available for Max and Enterprise users. To find out more about this subscription, please click here. Create subtitles Open the Moovly Studio go to the Toolkit tab ...

What is the Toolkit and its features?

Overview of the Toolkit and the features inside it The Toolkit is a collection of advance features including Subtitles, Google Translate, XLIFF import/export, Reord, Text-To-Speech, Text-To-Video generation, AI (GPT) video generation. You can access ...

How to add sounds to your content?

How to quickly and easily find and add sounds, music and audio To add a sound from a library to your content, just drag and drop it on the Stage. It will not be visible there, but appear on the Timeline, right where the Playhead is (the vertical red ...

How to mute or edit sounds in the editor?

Easily manage and edit audio in your project Once you've added a sound to your content, you have a few simple sound editing options at your disposal: Shift your sound in time: music, voice or sounds usually need to be synchronized with your visual ...