Testing premium features in the Moovly Studio
Learn how to access and test premium features for free

In the Moovly Studio you get access to all premium features that we currently have available. You can test these features as many times as you want in the Studio.

If you click on a premium feature you will receive the following message:

Click on "Test it now' to try the feature for free.
When you add a feature to your project you will notice that the object will be labelled with a Star or Max.

When you try to publish or download a project that contains premium features you will have a watermark on your video. To remove the watermark you need to
upgrade
your current subscription or remove the object(s) marked with a Star/Max label that are in your project.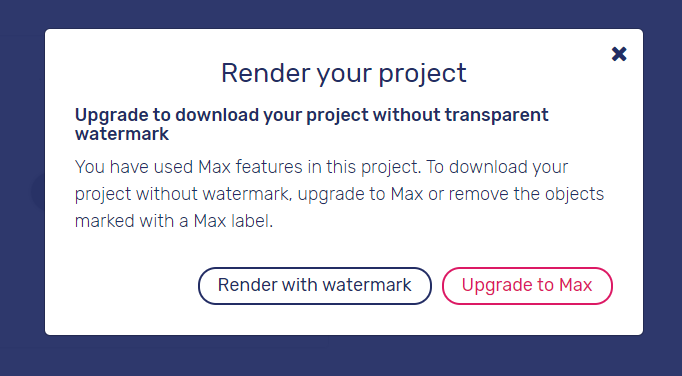 Related Articles

Can I get help in the Moovly Studio editor?

Understand how to get help when you are in the editor. When you are in the Moovly Studio editor, you have different help options available - just look at the top right corner of the editor window and you will see the following options: Intro video: ...

Corona Clips in the Moovly Studio editor explained

Corona Clips in the Moovly Studio editor explained To support you in your video communication about the coronavirus, Moovly has created a couple of video clips. These can easily be adapted according to your needs and wishes. The corona clips can be ...

What are the technical requirements for Moovly Studio?

Understand the browsers that are compatible with the Moovly Studio editor Moovly Studio is a browser-based application that is supported by most browsers: Chrome, Firefox and Edge on Windows computers Chrome, Firefox or Safari on Apple Mac computers ...

Which file types are being supported by the Moovly Studio?

Learn which objects you can upload to the Personal Library. File types with the following extensions can be uploaded to the Moovly Studio: 1) Audio: .flac, .m4a, .mp3, .wav, .ogg, .wma, .aiff, .opus 2) Images: .gif, .jpeg, .jpg, .png, .svg 3) Video: ...

How do I preserve the low introductory Moovly pricing?

Take lifetime advantage of Moovly's current low subscription pricing When Moovly announced its new Studio product in April 2017, this new HTML5-based online application was still young and not as feature-rich as its Flash-based predecessor, called ...