Testing premium features in the Moovly Studio
Learn how to access and test premium features for free

In the Moovly Studio you get access to all premium features that we currently have available. You can test these features as many times as you want in the Studio.

If you click on a premium feature you will receive the following message:

Click on " Test it now' to try the feature for free.
When you add a feature to your project you will notice that the object will be labelled with a Star or Max.


When you try to publish or download a project that contains premium features you will have a watermark on your video. To remove the watermark you need to
upgrade
your current subscription or remove the object(s) marked with a Star/Max label that are in your project.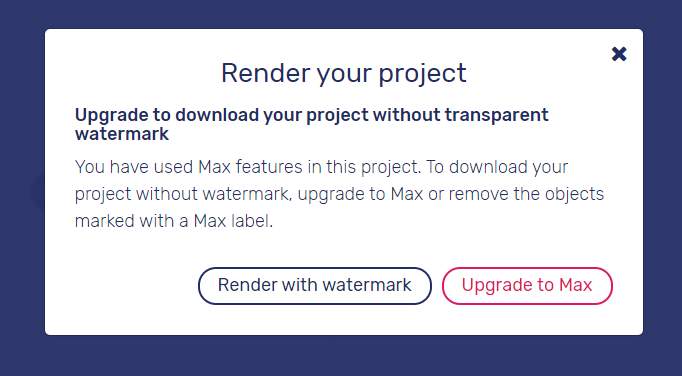 Related Articles

How to get rid of the Moovly outro and watermark?

Read how to remove the Moovly logo and outro from your content Once rendered, published, or downloaded, every Moovly project created with a Free Account or Free Education plan will carry a Moovly watermark: To remove the Moovly logo and outro, you'll ...

Can't access my Pro or Max features

After successfully upgrading to a Pro, Max, or Enterprise subscription, you immediately get access to your new features. If you however do not see these changes to your account, make sure to go to My profile and see if it shows your correct ...

Can I get help in the Moovly Studio editor?

Understand how to get help when you are in the editor. When you are in the Moovly Studio editor, you have different help options available - just look at the top right corner of the editor window and you will see the following options: Intro video: ...

What are the technical requirements for Moovly Studio?

Understand the browsers that are compatible with the Moovly Studio editor Moovly Studio is a browser-based application that is supported by most browsers: Chrome, Firefox and Edge on Windows computers Chrome, Firefox or Safari on Apple Mac computers ...

Who owns your Moovly video? (Moovly Studio)

Learn who owns your Moovly videos You get a full, exclusive usage right of your video, but as your content also contains Moovly, Storyblocks and Getty Images components, you do not own it. Of course, you also stay owner of all media you uploaded. ...