What are Automator credits?
Learn more about Automator credits and how to use them.

Users who are interested in automating their videos based on a database,
Google sheet
or
API
can use our
Moovly Automator
tool. Generating videos require
Automator credits
, one credit equals one generated video.
Upon registering, every Moovly user automatically receives 25 Automator credits to try out the Automator, Google Sheet Integration or the API. To purchase more Automator credits please fill in the
contact form
.
Note, in order to use the Automator you need to have a
Pro
,
Max
or
Enterprise
subscription.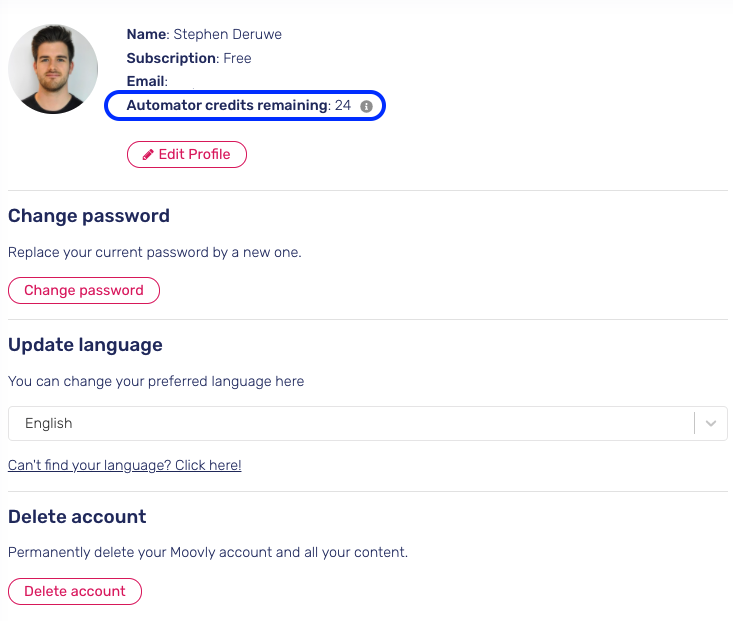 Related Articles

Moovly Automator

Produce customized videos in high volumes by using the Moovly Automator A Moovly Automator allows companies, organizations and brands to produce template-based, customized videos in high volumes (hundreds or thousands of videos). Would you like to ...

How to use Google Sheets with Moovly?

Learn how to import Google Sheets in Moovly *Please note the Import Google Sheets feature is only available for Pro, Max and Enterprise users. With the following steps you will learn how to easily turn your Google Sheets into Moovly Videos: Written ...

How to use Microsoft Excel with Moovly?

Learn how to use Microsoft Excel sheets to create videos in Moovly. Before you start you need to create a Microsoft Excel document that has all the text data in it that needs to be inserted automatically into the video(s). Moovly will then generate a ...

How to save a Clip?

Save Clips to your Personal Library for reuse The Timeline in Moovly Studio is organized in Clips, groups of objects that belong together. Moovly Studio contains a Clips library with pre-animated clips you can use and adapt to your needs. You can ...

How to create my own Templates?

Learn how to make your own Templates for future use. Templates are basically reusable and editable projects. In other words, they are created from projects. So before trying anything, go to the Moovly dashboard and create a new project. Once you have ...