Where can I find the documentation for the API?
The documentation of the Moovly developer API can be found in the
Docs
section of
Moovly Developer Hub
. The documentation provides information on how to intregrate with Moovly, the Automator, Wordpress Plugin and more.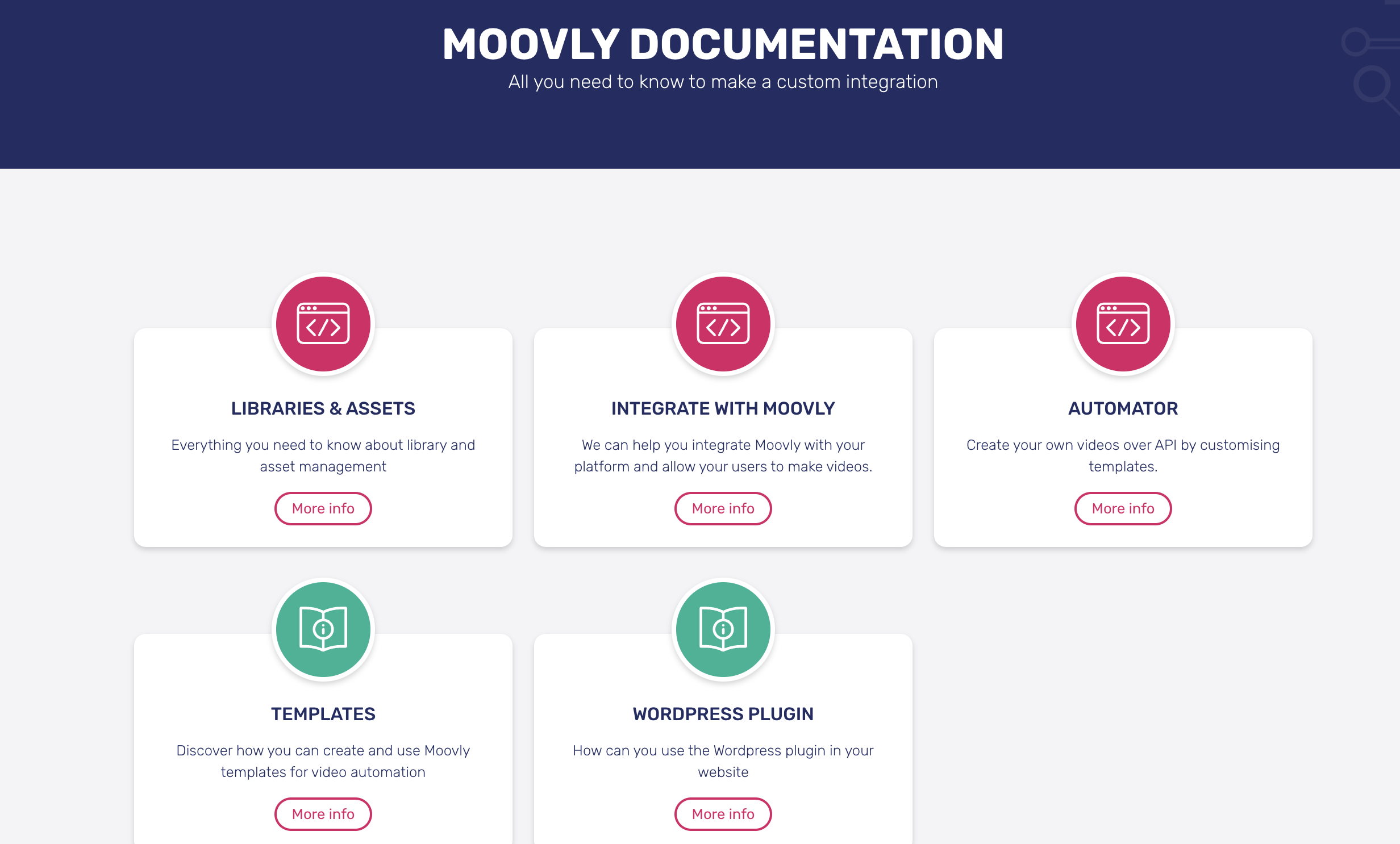 Related Articles

What are Automator credits?

Learn more about Automator credits and how to use them. Users who are interested in automating their videos based on a database, Google sheet, or API can use our Moovly Automator tool. Generating videos requires Automator credits, one credit equals ...

Moovly Automator

Produce customized videos in high volumes by using the Moovly Automator A Moovly Automator allows companies, organizations and brands to produce template-based, customized videos in high volumes (hundreds or thousands of videos). Would you like to ...

How do I purchase extra Automator and Video Maker credits?

If you've run out of credits, you can purchase extra credits in Moovly. To purchase additional credits follow these steps for: Sign-in to your Moovly account. Go to Settings located on the left. Click Credits Choose the preferred package. Fill in ...

How to add your media files with Google Spreadsheet?

To add images or logos to your spreadsheet your content needs to be stored on a cloud storage such as Google Drive, Dropbox, AWS or another cloud storage solution. Step 1. Add the direct link of the files into your spreadsheet (as shown below). ...

How to use Microsoft Excel with Moovly?

Learn how to use Microsoft Excel sheets to create videos in Moovly. Before you start you need to create a Microsoft Excel document that has all the text data in it that needs to be inserted automatically into the video(s). Moovly will then generate a ...