The Moovly Studio editor allows you to create and edit mathematical formulas based on
LaTeX
, a software system for typesetting. If you are creating videos to explain equations, symbols or formulas, the formula editor will prove to be a handy tool.
To add a LaTeX formula or equation, click the formula icon above the Stage:


Next, click on the Stage where you want to put your formula. A default formula appears as an object. When you doubleclick the object, the LaTeX formula editor opens: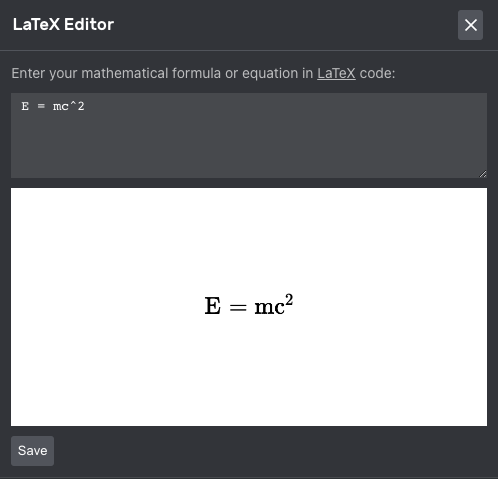 Change your formula in the grey entry box using LaTeX code and verify it in the white preview area. When OK, click the Save button. Your formula will appear as a single object on the Stage.
Once on the Stage, you can modify properties such as font size, text color and opacity in the LaTeX Properties panel: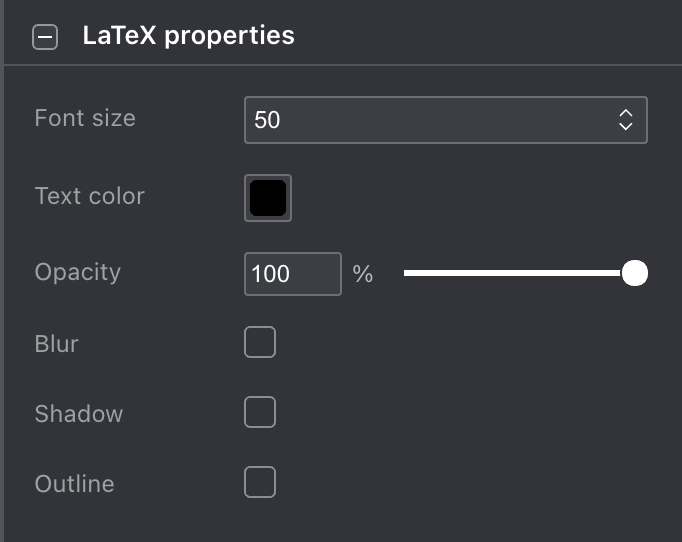 In the Timeline, your object is referred to as "LaTeX object". If you'd like to change this reference, just double-click the name and enter your new reference text.


To animate the appearance, disappearance or motion of your LaTeX object, you have the same animation options available as for images. While the object is selected, just click the "Add animation" button at the bottom of the Timeline and choose the animation you'd like to apply.

To build your equation or formula, you need to enter LaTeX code. The following resources that may be of help:
NOTE: This feature is only available to users with an
Edu account
.